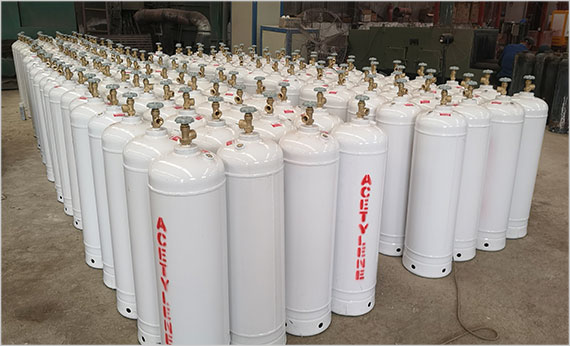 Acetylene Cylinders
Acetylene gas is a colorless, flammable gas with an odor similar to garlic. Shipped and stored in dissolved acetone. Acetylene gas can decompose spontaneously if pressure exceeds 15 PSIG. This colorless gas is widely used as a fuel and chemical building block.
There are two types acetylene cylinder, seamless steel cylinder and welded cylinder.
Our cylinders are based on ISO3807 and GB11638 standard.
The cap, valve, color, logo and stamping are as customer required.
Best-selling acetylene cylinders parameter:
Iterm

Unit

Types

Nominal water capacity

Litres

40L

60L

25L

12.5L

7.5l

2L

Nominal diameter

MM

250

310

235

140

108

Wall Thickness

MM

4

4

4

4.1

3.2

Height (mm)

MM

1040

1117

800

600

640

310

Cylinder Weight (without acetone)

KG

39

51

27

13.5

10.5

3.2

Acetylene Max Filling Weight

KG

6.5

9.5

4

2

1.3

0.3

Limited filling pressure(15℃)

MPa

1.56

Hydraulic test pressure

MPa

5.2

Sealing test pressure

MPa

3

Porous mass

propery

Compressive strength

N/nm2

≥1.8 N/nm2

Porosity

%

90-92%

The axial space

MM

≤2.5

Solvant

Acetone

Maximum working temperature

℃

40

Valve

QF-15 valve or upon customer request