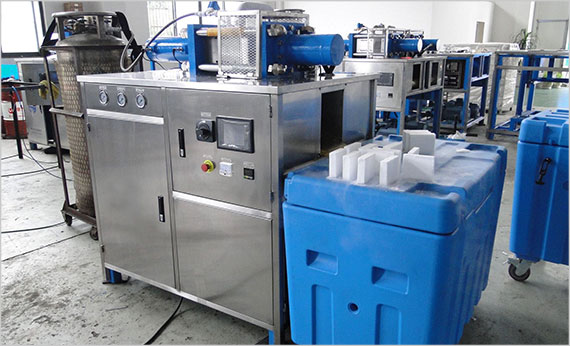 Dry Ice Making Machine
Dry ice is the solid form of carbon dioxide, which can be widely used in food preservation, industrial cleaning and scientific research. It has advantages of leaving no residue and lower temperature than that of water ice.
We are committed to the research and production of dry ice making machine which have advantages of low energy and raw material consumption, good appearance and operation simplicity. To meet diversified needs of customers in different industries, our experienced engineering team has developed many kinds of machines to make dry ice in various shapes (in particles, snow type or blocks).
Description
1. Dry ice manufacturing process:
LCO2 cryogenic storage tanks or dewar flasks (with hose connecting the outlet of tank and the inlet of dry ice machine)-dry ice making machines (available for direct use after leaving the factory) – dry ice chest
2. Production capacity: 50kgs-540kgs
3. Size of dry ice
a. Block: cuboids, the international standard cross-sectional area of 125×105mm, the adjustable thickness of 15-50mm, a customized size of 350×350mm is also available.
b. Particle: Φ1.5mm, 2mm, 3mm
4. Purchasing Guide
If you would like to buy our dry ice making machine, please advise us of your requirements on the output, shape, and size. We also provide one-stop service by offering the following supporting products:
Ancillary equipment for dry ice machine
Cryogenic liquid storage tank/dewar flask/micro bulk tank