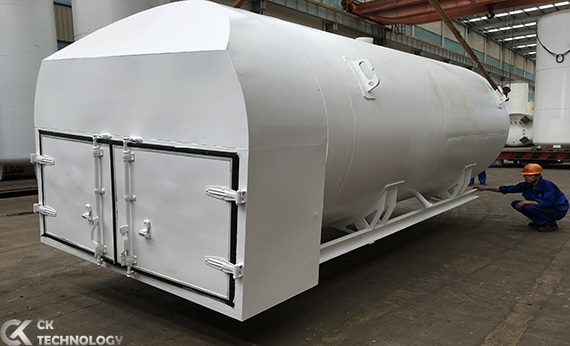 Liquid CO2 Mobile Tank
Liquid carbon dioxide transport tank used for transportation of LCO2 from one place to other, which are equipped with safety fittings, unloading transfer pump, valves, gauges and other accessories as per Chinese GB standard of ASME norms.
Liquid carbon dioxide is transported from CO2 recovery plants to customer's storage tanks in different volumes through multi-layer super vacuum insulation, vacuum power insulated tank or PU foam insulated transport tank. The tank is mounted and fixed on the semi trailer with dimensions to suit for particular vehicle model. All the safety fittings, valves, liquid CO2 transfer pumps and other instruments are installed inside of a lockable back cabinet. Different capacity can be designed and fabricated according to the customer's local transport regulation and selected vehicle model.
Parameters:
Capacity: 3-50m3
Working pressure: 22bar or customized
Design temperature: -40℃
Medium: Liquid CO2 gas
Insulation Mode: Vacuum Powder, Multi-layer super vacuum insulation, PU foaming insulation