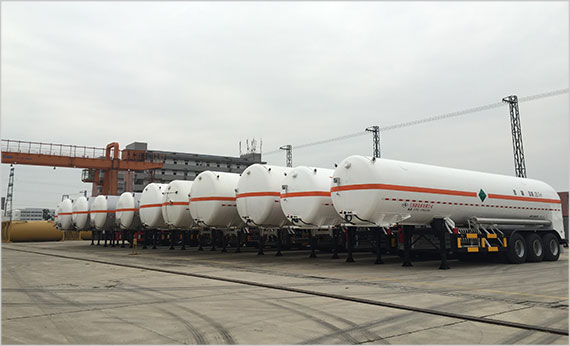 LNG Cryogenic Liquid Lorry Tanker
LNG semi trailer tanker/LNG tanker truck tractor trailer is used to transport liquefied natural gas (LNG). Having worked in this field for more than 10 years, we can make LNG semi trailer tankers with light weight, compact design, safe and easy operation characteristics. The design and fabrication of our tankers are in accordance with Chinese GB150 or ASME standard. Customized design of semi trailer LNG tank/ tanker truck tractor trailer is also available for users based on their local vehicle loaded weight regulations.
Parameters
Capacity:10m3-53m3
Working pressure:0.7MPa~2MPa
Axle quantity: 2 axle 3 axle 4 axle
Axle brand: FUWA / BPW and so on, 12ton, 13ton, 16ton, 18ton, 20ton.
Suspension: Air suspension, mechanic (leaf spring suspension), bogie suspension, etc.
Material: Carbon steel/aluminum/stainless steel material
Medidum: LNG
Features:
1)Large capacity, low operation cost and little evaporation rate
2) Auto-welding machine is used to ensure high quality while welding the tank body sheet.
3) Advanced sandblast, spray painting, purging, anti-corrosion procedure
4) Advanced mechanical property test, making lowest shrinkage risk and highest dimensional stability under low temperature possible